We are open
From 19 July 2021, we are still asking you to choose to follow some Covid-19 safety measures when you visit St George's Bristol. During your visit, please continue to:
Wear a face covering

Use the hand sanitiser available throughout the building

Check in via the Track & Trace app where possible
We know these measures are no longer mandatory, but by following these steps, you're helping to create as safe and welcoming an environment as possible for everyone in the St George's community – including the more vulnerable amongst us.
Thank you for your continued support, and welcome back.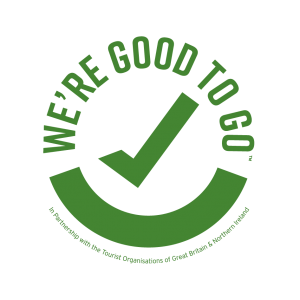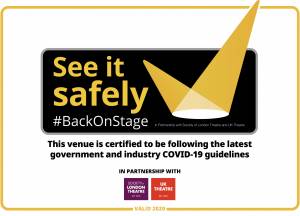 We are accredited 'Good to Go' by the Tourist Organisations of Great Britain & Northern Island, Visit England and Visit Bristol. We also carry UK Theatre's 'See It Safely' mark.
Coming to Events
If you or anyone in your household is experiencing any symptoms of coronavirus, or has come into contact with anyone with coronavirus, please stay at home. Thank you.
Some of our events are still running at a reduced capacity. If you'd like to find out about a particular event, you can contact us here, call us on 0845 40 24 001, or email us on hello@stgeorgesbristol.co.uk
We reserve the right to increase the number of people allowed into a socially distanced event, by changing the seating arrangements, in line with current Covid-19 safety guidelines. Bookers will be informed about how this affects their tickets or seats, and options such as moving seats – for instance if a better seat has now become available. If you would like to remain socially distanced from other audience members, please contact our Box Office using the details above. There will be a limited number of socially distanced seats available where you can sit on a row end with a free empty seat next to you included within your booking.
We are encouraging our visitors and audiences to use contactless payments wherever possible at our Box Office and Café Bar. We are also using contactless ticket scanners to check your tickets as audiences enter the hall. Our protective screens at the Box Office and Bar also remain in place.
We are keeping our Covid-safe measures under regular review in line with Government and local council guidelines.
Rescheduled or Cancelled Events
Rescheduled Events
If you have tickets booked with us, and are unable to make the rescheduled event date, please get in touch with us on hello@stgeorgesbristol.co.uk
All tickets and seat reservations will be automatically carried over to the new date.
In some cases, if an event is unable to take place in person, an online alternative may be provided – in which case, all tickets will automatically be transferred to the new online event.
Cancelled Events
Unfortunately, sometimes we're unable to reschedule events affected by Covid-19. If you're a ticketholder to a cancelled event, our Box Office team will get in touch with you using the contact details you supplied when you booked your ticket/s. You can then choose if you would like to:
Receive a refund of the face value of the ticket, in line with our standard Terms & Conditions. Our team is working through cancelled events chronologically so please do bear with us.

Donate the the face value of your ticket to St George's. Every donation helps to secure our future as we navigate these challenging times. If you would like to do this, please let us know on hello@stgeorgesbristol.co.uk – and do mention whether you're eligible for GiftAid.

Convert the face value of your ticket to credit on your St George's account. You can then use this to book for other future events.