Updated 30 November 2021
In order to keep our audiences, artists, volunteers and staff safe, and to strike a balance between this and ensuring everyone can return to enjoying live music at St George's, we have updated our Covid-19 safety measures.
As government guidance has changed, we think this is the right thing to do. We all want live performance to continue; we want to do our best to minimise the risk of further restrictions and to protect the more vulnerable in our communities of artists and audiences.
When you visit St George's, we ask you to wear a face covering in crowded or enclosed spaces, and when you come into contact with people you don't usually meet. This request excludes children under the age of 11, and poeple who are exempt from wearing a face covering due to medical circumstances.

Please use the hand sanitiser available throughout the building.

Please use contactless payments wherever possible.

We encourage you to take a lateral flow test before visiting St George's. If you return a positive test, have any symptoms, or have been advised to self isolate, please do not attend.
Ventilation at St George's will be maximised where possible, wilst maintaining a comfortable temperature for artists and audiences.
We regularly review the number of seats on sale for events, and we may reduce the capacity as we think necessary. The pandemic continues to demand adaptation from us all; we trust you will understand our position to support as many poeple as possible to enjoy live events at St George's.
We look forward to welcoming you soon.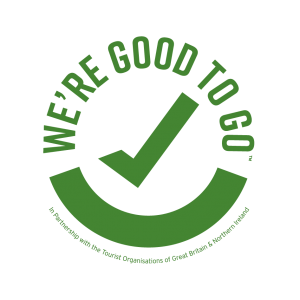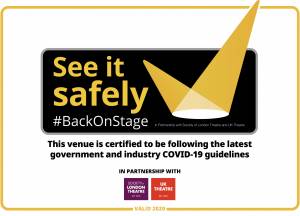 We are accredited 'Good to Go' by the Tourist Organisations of Great Britain & Northern Island, Visit England and Visit Bristol. We also carry UK Theatre's 'See It Safely' mark.
Coming to Events
If you or anyone in your household is experiencing any symptoms of coronavirus, or has come into contact with anyone with coronavirus, please stay at home. Thank you.
If you'd like to find out specific details about a particular event, you can contact us here, call us on 0845 40 24 001, or email us on hello@stgeorgesbristol.co.uk
We reserve the right to increase the number of people allowed into a socially distanced event, by changing the seating arrangements, in line with current Covid-19 safety guidelines. Bookers will be informed about how this affects their tickets or seats, and options such as moving seats – for instance if a better seat has now become available. If you would like to remain socially distanced from other audience members, please contact our Box Office using the details above. There will be a limited number of socially distanced seats available where you can sit on a row end with a free empty seat next to you included within your booking.
We are using contactless ticket scanners to check your tickets as audiences enter the hall. Our protective screens at the Box Office and Bar also remain in place.
Some events, particularly during the Christmas season, may involve audience participation such as singing. We are encouraging audiences to choose to wear a face covering during these events, particularly during any audience participation.
We are keeping our Covid-safe measures under regular review in line with Government and local council guidelines.
Rescheduled or Cancelled Events
Rescheduled Events
If you have tickets booked with us, and are unable to make the rescheduled event date, please get in touch with us on hello@stgeorgesbristol.co.uk
All tickets and seat reservations will be automatically carried over to the new date.
In some cases, if an event is unable to take place in person, an online alternative may be provided – in which case, all tickets will automatically be transferred to the new online event.
Cancelled Events
Unfortunately, sometimes we're unable to reschedule events affected by Covid-19. If you're a ticketholder to a cancelled event, our Box Office team will get in touch with you using the contact details you supplied when you booked your ticket/s. You can then choose if you would like to:
Receive a refund of the face value of the ticket, in line with our standard Terms & Conditions. Our team is working through cancelled events chronologically so please do bear with us.

Donate the the face value of your ticket to St George's. Every donation helps to secure our future as we navigate these challenging times. If you would like to do this, please let us know on hello@stgeorgesbristol.co.uk – and do mention whether you're eligible for GiftAid.

Convert the face value of your ticket to credit on your St George's account. You can then use this to book for other future events.